Known for their Quality look and Neat work, Bengali Sarees are one of the most popular in India and around the world.
Bengali traditional sarees mean Tant sarees mainly include Cotton Tant Saree, Dhakai Jamdani Saree, Handloom Sarees, Tussar Silk Sarees, Baluchari Sarees, Tant Banarasi Sarees, Garad Sarees & many more.
The Bengali word "Tant" is a type of hand-operated machine used by weavers to weave or craft sarees.
These different types of authentic sarees in West Bengal are mostly handwoven rather than power looms.
All these unique things make them stand out from other Indian Sarees.
Mostly floral, The Bengali saree designs reflect the different cultures of East and West Bengal.
So let's take you on a ride to find out about the Bengali Tant sarees online.
1. Tant Dhakai Jamdani Sarees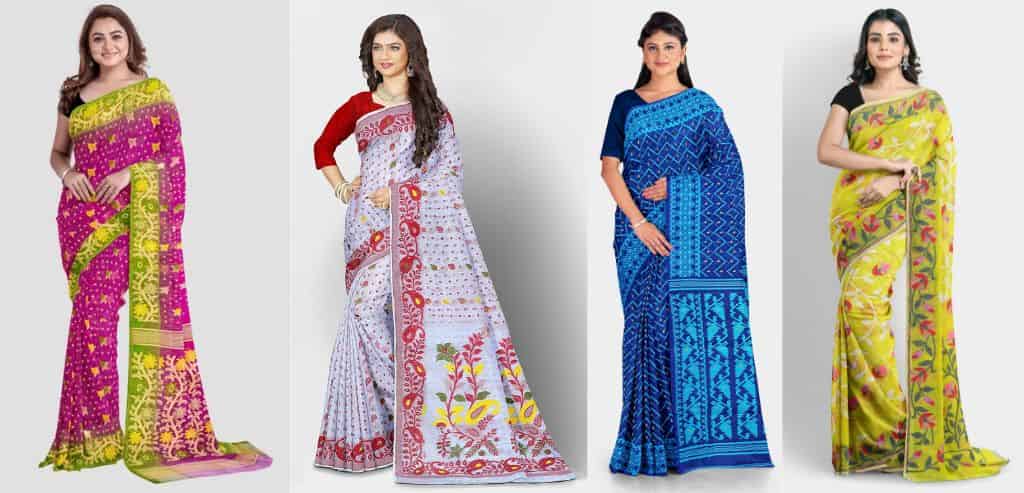 Who doesn't know about Dhakai Jamdani Sarees?
Jamdani Sarees has to be one of the most adored Sarees in the World.
Mainly originating from East Bengal (Currently Bangladesh), the Jamdani Sarees are one of a kind.
There exist numerous amount of amazing designs like Korat, Minakari Jamdani Sarees, Muslin, Silk Jamdani, Cotton Jamdani Sarees, Matka Silk Jamdani Sarees, and many more.
Nowadays there are 2 types of Dhakai Jamdani in terms of texture one is Soft Jamdani and the other is Starchy or you can say the hard jamdani.
Dhakai Jamdani Saree Characteristics:-
Material Used – Pure Cotton, Silk, Cotton Silk, Resham Silk, Muslin
Body Work Type – Cotton Thread and Zari Mina.
Seasons: Durga Puja, Ceremonies, especially the Best saree for Bengali Weddings & Festivals.
CLICK HERE TO FIND THE BEST DHAKAI JAMDANI SAREES
2. Bengali Cotton Tant Sarees
After Jamdani, we know Bengal for its High-Quality Cotton Sarees.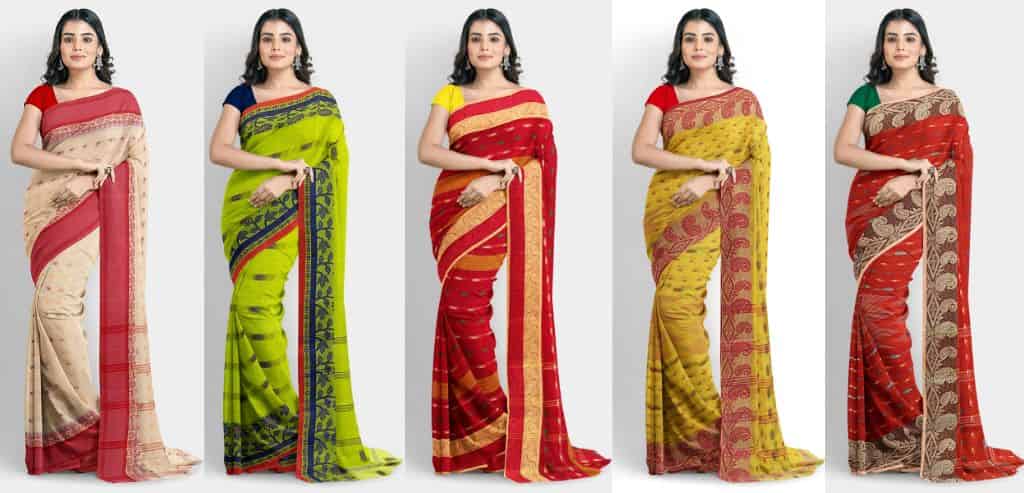 Bengal Cotton Tant Sarees are known for their high-quality organic Cotton and an enormous amount of designs. Besides that, in many parts of Bengal like Samudragarh, Fulia & Shantipur, and in Bangladesh Tangail Cotton Sarees these Sarees are still completely handcrafted.
Bengali Tant Sarees should be your 1st choice if you are asking for Quality, Comfortability and affordability at the same time.
Cotton Tant Saree Characteristics:-
Material – Pure Cotton
Body Work Type – Cotton Thread and Zari, Velvet in Border
Cotton Tant Saree designs: Floral Allover Body Work
Seasons: All-season Saree, especially Summer & is best for everyday wear.
Mayabi makes it easy to shop for the Best Handcrafted Bengali Tant saree online.
CLICK HERE TO FIND THE BEST COTTON TANT SAREES
3. Bengal Silk Sarees
Bengali Silk Sarees are not only Murshidabad Silk Sarees or Bishnupuri Silk Sarees, you can find several verities of Silk Handloom sarees in Bengal.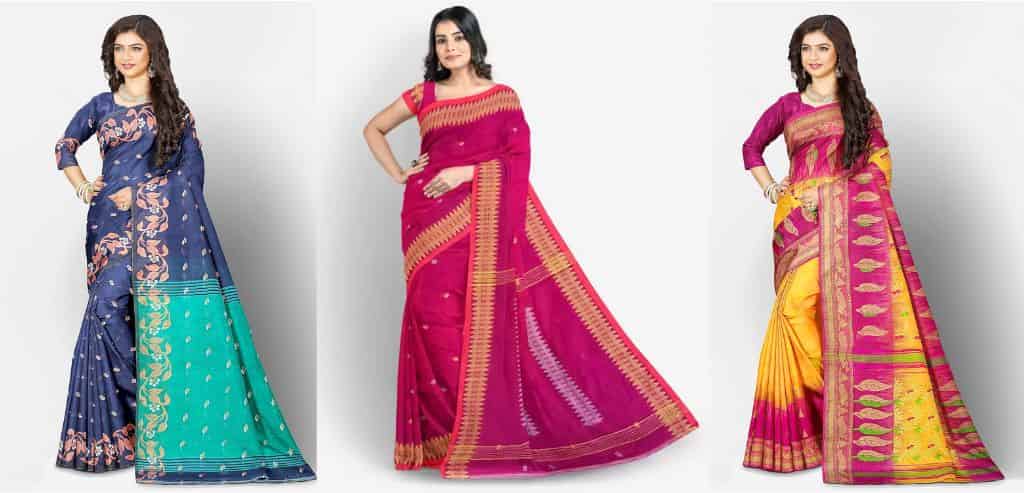 Bengal Silk Sarees in Bengal mainly comprise of Tussar Silk, Matka Silk, Resham Silk, Raw Silk and Muslin and currently the "Bumper Silk" which is type of cheap bright polyester type Cheneese threads used to weave probably all the sarees to make the saree affordable to the consumers.
CLICK HERE TO FIND THE BEST BENGAL SILK SAREES
4. Baluchari Sarees
Bishnupur is heaven when we think about Silk Baluchari Saree. Mainly originating from Murshidabad, these Baluchari sarees are one of the most Popular Bengal Tant Sarees.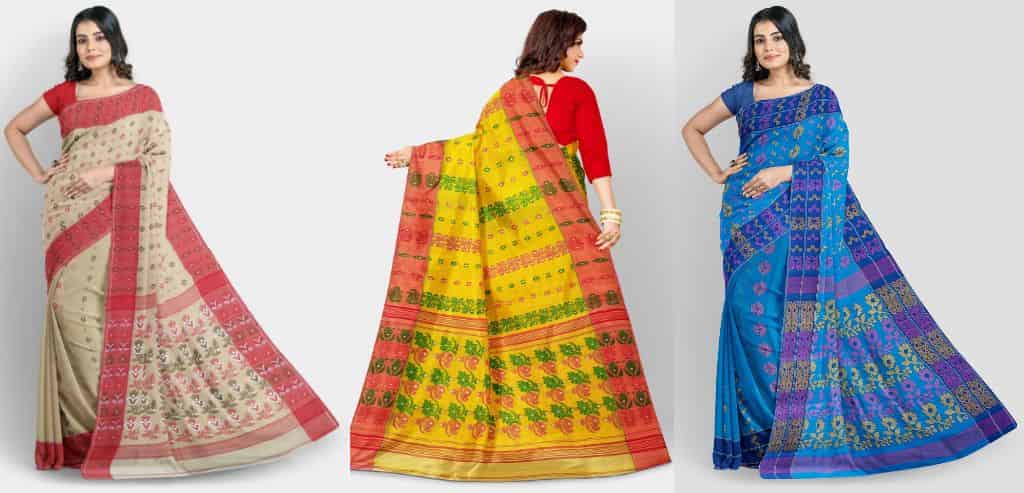 Baluchari Silk Saree is the most common and is mostly used to showcase famous scenes of stories of Hindu Mythology.
But in recent days, The Pure Cotton Balucharis gathered momentum as one of the most adored sarees in India, especially in Southern India as well as among Bengali consumers.
In Cotton, Baluchari Saree Designs is a bit different from what you will find in Silk.
Cotton Baluchari Saree Characteristics:-
Material – Pure Cotton & Silk
Body Work Type – Cotton Thread. Silk in Border
Designs: Floral Body Work, Animal or Historical Hindu Mythological paintings.
Seasons: Best Saree for Religious Festivals & everyday wear.
Other Names: Also Known as Baluchuri Saree in Bengal
CLICK HERE TO FIND THE TOP ORIGINAL COTTON BALUCHARI SAREES
5. Bengali Handloom Sarees
With a brief history behind them, the Bengali Handloom Sarees are the newest updated version of Traditional Bengali Tant Sarees and Tangail Sarees. It is the mixing pot of different cultures of different regions of Bengal.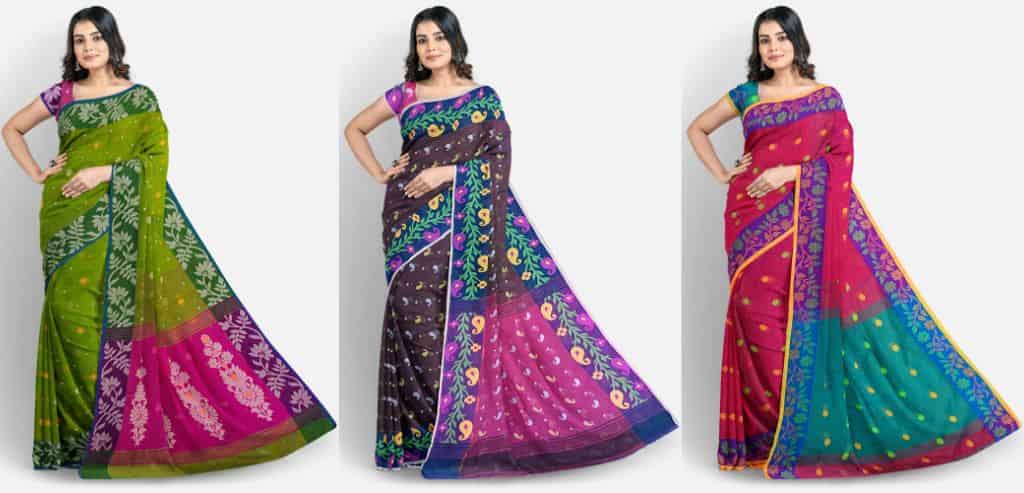 These non-traditional Tant Saree Designs get updated every year, which is probably one of the primary reasons behind their growing popularity.
These Bengali handloom sarees mostly attract new Generation Saree wearers, as these are updated and modernized versions of traditional Bengali as well as Tangail saree motifs and also require less caring (Ironing, searching) compared to traditional Bengali Tant Sarees.
Weavers mostly use Golden Zari, Copper Zari, Sliver Silk, and Polyester as decorative materials to weave these sarees nowadays.
Fancy Tant Handloom Saree Characteristics:-
Material – Cotton, Silk & Cotton Silk, Tissue Silk,
Body Work Type – Embroidery, Printed, Woven
Designs: Floral  Body Work
Seasons: Best Saree for Religious Festivals like Durga Puja or any Festivals.
CLICK HERE TO FIND THE TOP HANDLOOM SAREES
6. Tant Banarasi Sarees
Everyone knows about Banarasi Sarees, right? But when we talk about Tant Banarasi Sarees, it is much more different from the actual Banarasi Sarees.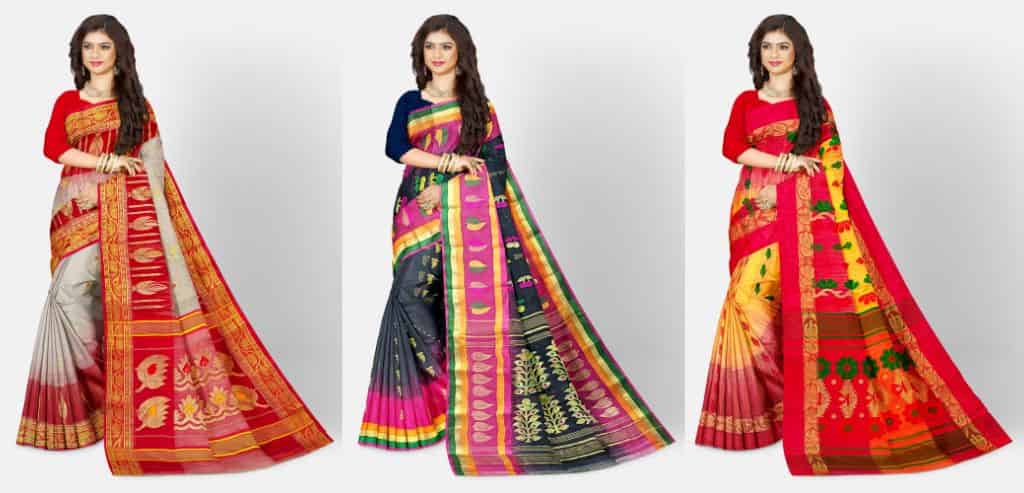 Talking about the differences between both, let's start with Fabric. Bengali Tant Banarasi Sarees are mostly made with Tussar Silk or Tussar Cotton as a base and Cotton and weavers use Golden Zaris in thread work.  And to make the Border or Par the authentic Bengali Tant Banarasi uses velvet.
However, these days keeping in mind the affordability, a handful of weavers have started to weave these sarees with "Bumper" which is imported Chinese silk that may look bright in light but feels highly uncomfortable to most of the people wearing them.
Sadly in the majority of the cases now these Tant Banarasi Sarees are being made with machines only a very few weavers like us are making this by hand.
Bengal Cotton Silk Saree Characteristics:-
Body Work Type – Cotton Thread Work & Zari.
Designs: Floral Body Work.
Seasons: Best Saree for Festivals or functions from Haldi, Gaye Holud to wedding receptions.
Now Mayabi makes it easier to find the Best Bengali Tant Banarasi Sarees online.
CLICK HERE TO FIND THE LATEST TANT BANARASI SAREES
7. Fulia Tant Sarees
Fulia in West Bengal used to be the epicenter of Bengal Tant Saree after the partition.
We still know these Fulia Tant Sarees for their use of High-Quality materials, exclusive designs, and astonishing Border Designs in different Tant Sarees of Bengal which represent nothing but classy and pure authenticity.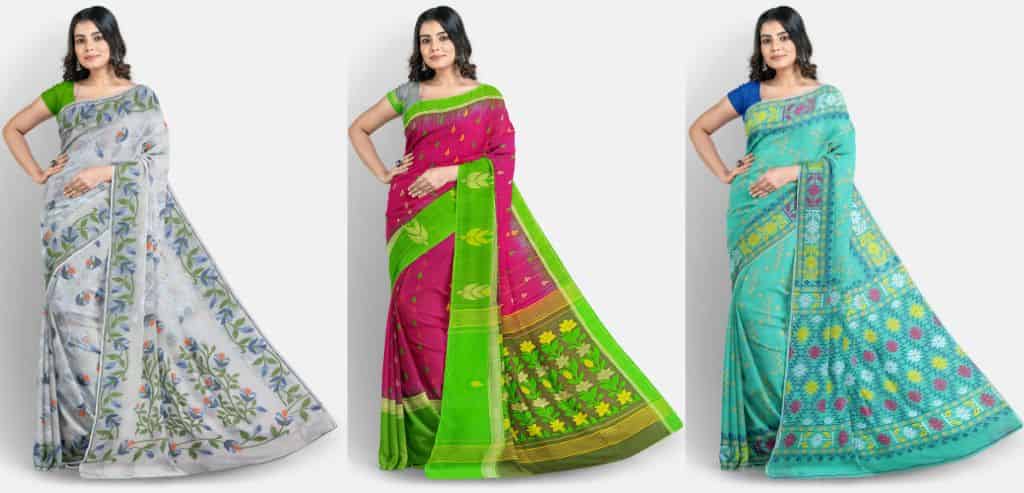 Not to mention there is hardly any type of saree that is not made in Fulia.
Most of the Current weavers in India have already opted for machines or Power looms for the production of sarees, but in Fulia West Bengal there is still a handful number of weavers who are still trying their best to keep this near-extinct art alive.
Fulia Tant saree online shopping is easy now, also finding the Original Fulia or Shantipuri Saree requires expert knowledge of fabrics & designs. So leave it to Mayabi.
Now Mayabi makes it easier to find the Best Tannt Sarees from Fulia online.
CLICK HERE TO FIND THE BEST FULIA TANT SAREES
8. Bengal Tussar Silk Sarees
Bengal Tussar Silk Sarees are the most underrated Sarees. Tussar Silk Sarees in West Bengal are one of the purest Tussar Silk sarees.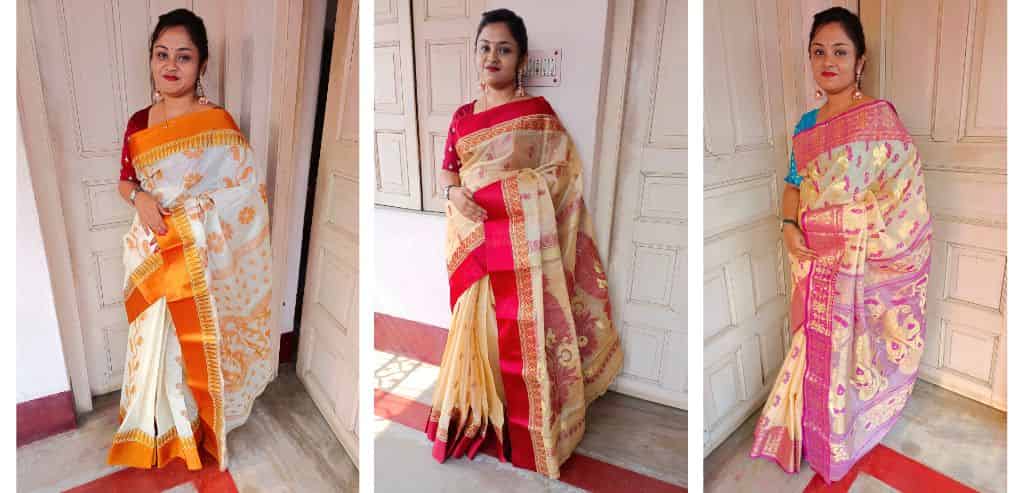 Big Borders with Zari or Velvet work & neat Floral Hardworking are some impressive talking points in explaining Tussar Silk Tant Sarees.
In this market, It's very hard to understand which is Real Tussar and which is not because of the easy availability of its cheap alternatives like "Bumper" and other materials.
A real Tussar Saree can cost around Rs.2000 to Rs.20000 depending on the motifs.
Besides, there are many types of Tussar Silk Sarees in West Bengal, from Plain Tussar Silk Sarees to matka Tussar silk.
Bengali Tussar Silk Saree Characteristics:-
Material – Pure Tussar
Body Work Type – Neat Cotton Thread and Zari Work.
Designs: Floral Body Work
Seasons: Best Saree for Marriage, Receptions, and Functions
CLICK HERE TO FIND THE TOP TUSSAR SILK SAREES
Special Mention: 
Kantha Stitch Sarees: Kantha means Blanket or Rag. Historically, women across Bengal used to stitch these Kanthas in their homes using stitches and that style of stitching was implemented on sarees and got popularized as Kantha Stich Sarees.
Dhaniakhali Cotton Saree: Dhaniakhali is a village in Hooghly district, West Bengal. And cotton sarees woven here have characteristics like a thick border and small Cotton stripes or checks all over the body and as these sarees are a bit thicker compared to normal Tant Sarees, it has a longer durability.
In conclusion, Bengal Tant Sarees is one of the most beloved Sarees in the whole of India. In other words, Tant Sarees is the melting point of all the different cultures of Bengal.
Besides these collections, there are literally 100 types of Bengal Tant Sarees available, which are important as well.
Finally, I hope you enjoyed our take on different Sarees in Bengal. If yes? then let me know your thoughts in the comment box and Please Share This Blog. Bye!!