Durga Puja is something that has put Bengalis on the Map. It is the Single most Enjoyable time of the year for people like you & me.
One of the Most Gorgeous & luscious Parts of the Durga Puja is buying Amazing Sarees that suit this Mega occasion.
And luckily we have some amazing pickings for choosing the best Saree collections for Durga Puja.
Starting from Dhakai Jamdani to Handloom Sarees, we got you covered on every type of Bengali Sarees. So lets Began.
1. Red and White Saree Collections for Durga Puja
Nothing can beat a perfect "Red and White Dhakai Jamdani" Saree on the occasion of Vijayadashami (Dussehra).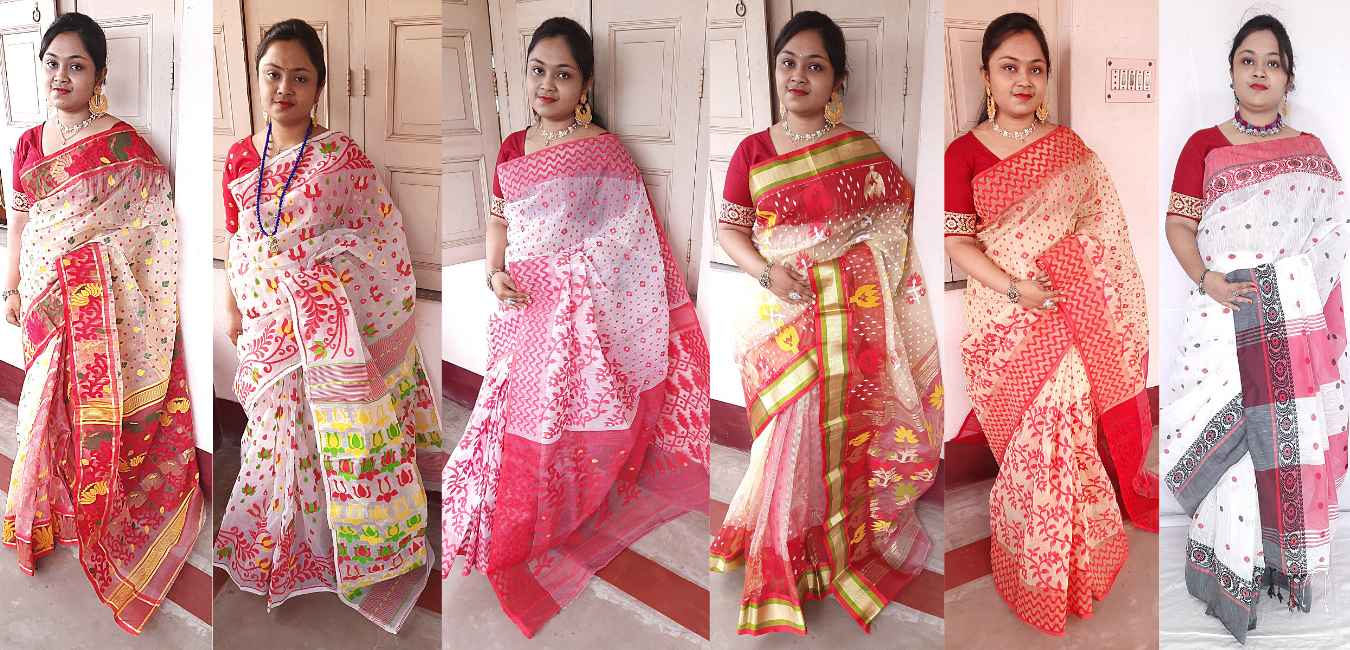 A Bengali  Traditional White Saree Red Border is significantly one of the most Signature Sarees in India.
And as we are talking about Red and White Sarees, Who can avoid Amazing Handwoven Dhakai Jamdani Sarees.
Apart from Dhakai Jamdani, there are Tussar Sarees, Handloom Sarees in Red and White.
In Mayabi, We have gathered some amazing New Red and White Sarees Designed only for this Festive Season. Click the link below to find out.
2. Self Dhakai Jamdani Sarees
Loved by Many, Self  Tant Jamdani Sarees are one of a kind.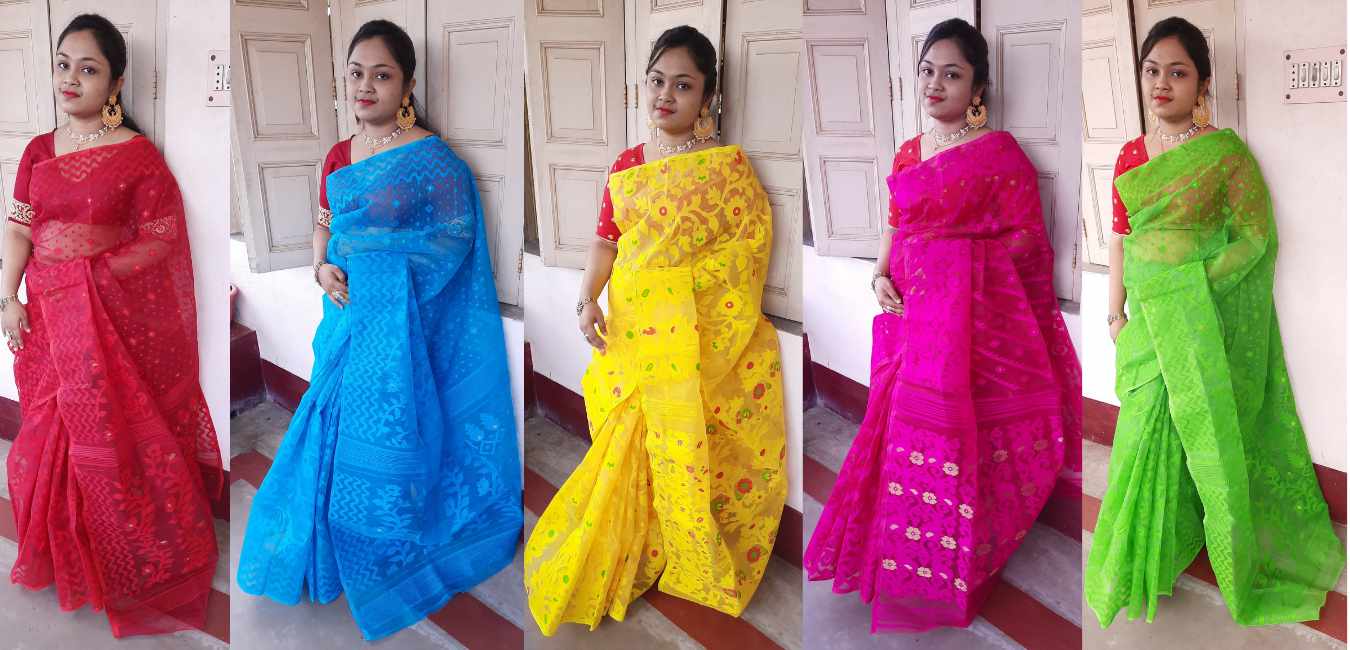 In Jamdani Self means Single Color.
In self Jamdani the Color of the Threads of the Jamdani Saree will be same as of the Body.
There are many people who prefer Self over Other Dhakai Jamdani Sarees.
For them, we have managed to showcase some of the best Self Jamdanis.
3. Bengal Handloom Sarees
Tant Handloom Sarees are glorified for their Vibrant Colours & Different Designs that suit the Mega Festival.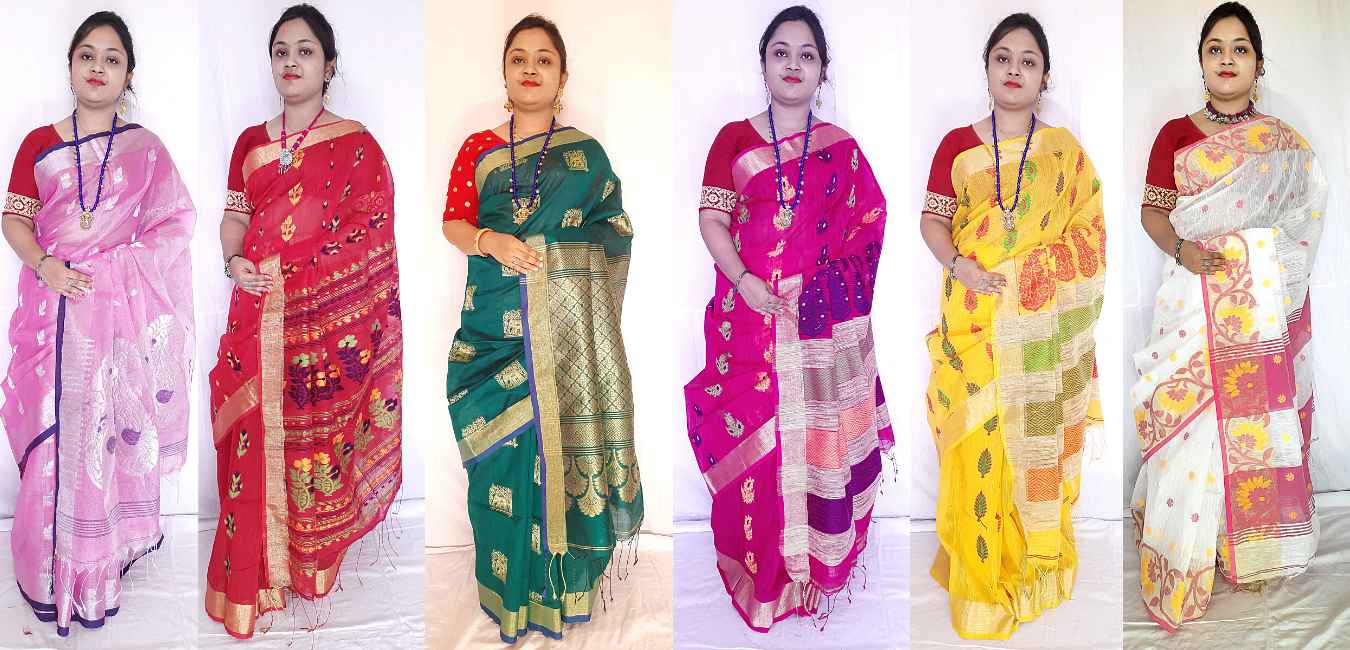 Handloom means Garments that are handcrafted in Loom or what we call in West Bengal "Tant".
But to Bengalis, It poses a Different meaning. For us, it simply reflects Soft Fabrics Like Cotton, Tissue & Silk Sarees that consist of Beautiful, Trendy designs and are easy to manage at the same time.
There are literally thousands of Handloom Sarees are available.
So today we have managed some of the Best Bengal Tant Handloom Sarees Online from Fulia that are trendy and Premium in terms of quality.
Click the button below to find out.
4. Dhakai Jamdani Sarees
I have rarely seen someone who doesn't know or like Dhakai Jamdani Sarees.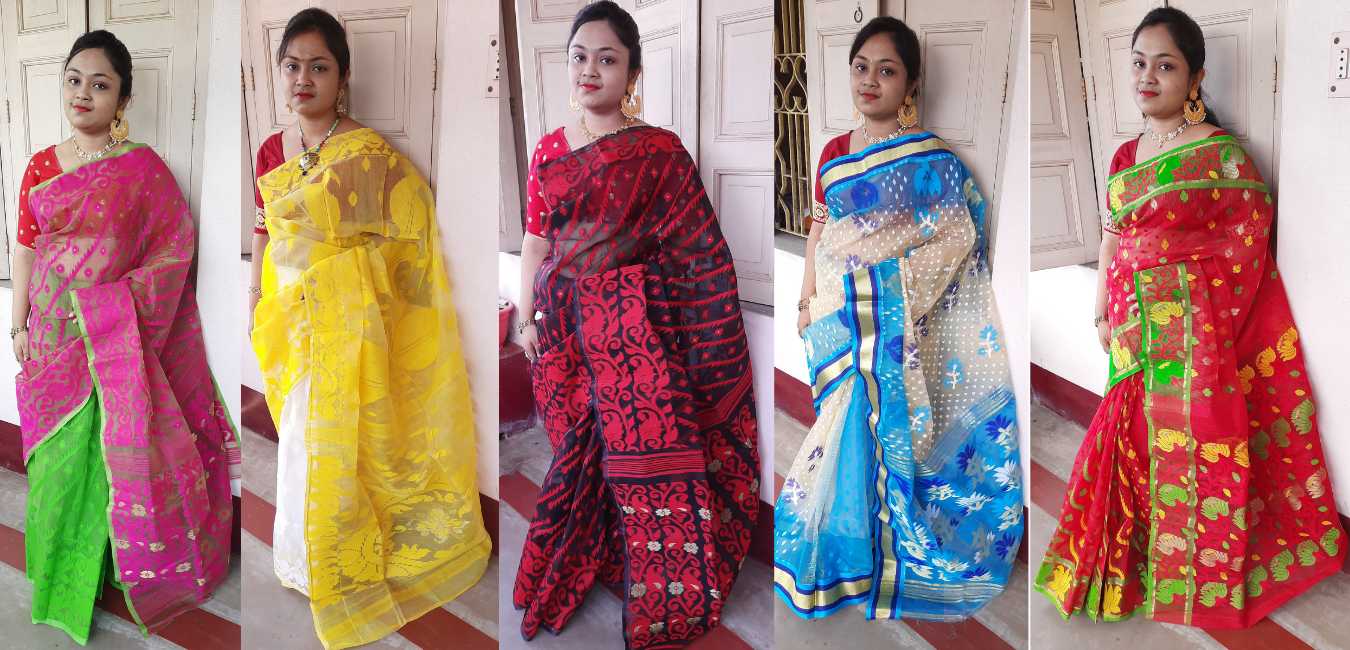 The Dhakai Jamdani Sarees are one of the most loved and Cherished Sarees in the World.
Known for their Rich History which is roughly 2000 years old, The Jamdani tant Sarees are appreciated for their classic Designs that include Korat Designs, Self Designs, Soft Jamdanis, and many more.
There is plenty of variety in Jamdani Sarees depending on different Regions of Bengal.
During Durga Puja The Jamdanis are Must on Ashtami.
Mayabi Specializes in manufacturing Authentic Traditional Dhakai Jamdani Tant Sarees which includes Resham Jamdani Sarees, Silk Dhakai Jamdani, Cotton or Sutir Jamdani, Tussar Jamdani and many more.
Click the button below to find out.
5. Fulia Tant Sarees
Fulia is one of the most prominent saree manufacturing hubs in West Bengal.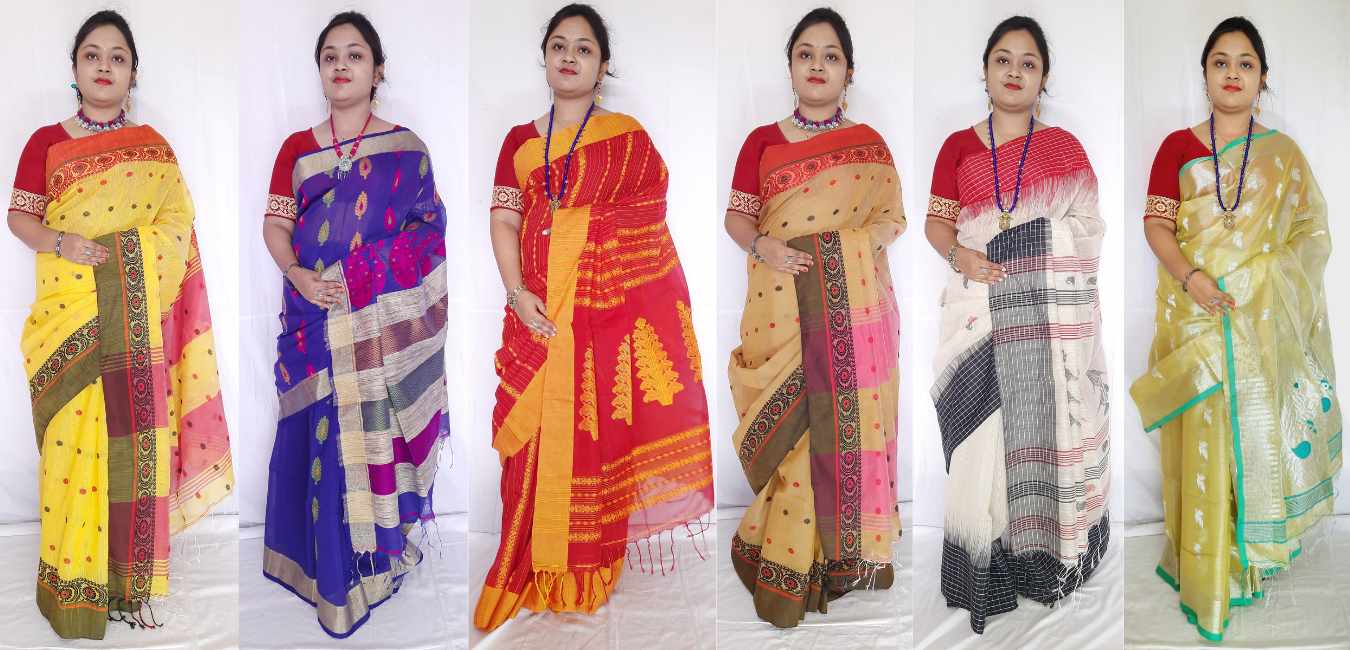 After the Bengal Partition, so many Weavers from Bangladesh settled in Nadia district's Fulia.
With their startling skills, they started producing some of the best Handwoven Tant Sarees in the Region.
And after so many years of Glory and Recognization, these weavers are still making their voices heard with their exclusive skills of weaving some of the best Bengali Traditional Tant Sarees.
These sarees include Authentic Jamdani Sarees, Handloom Sarees, and many more.
Click the button below to find out.
Conclusion
I hope you had fun reading our take on Saree Collections for Durga Puja. This blog was created after conducting various surveys throughout our Social Media handles in the last 1 Year.
We would really appreciate it if you comment below and let us know your views on this. And wish you a Happy Festive Season. Bye.