Introduction to Jamdani
Jamdani is a variety of Bengali handwoven sarees which are weaved with fine pure organic cotton or various types of silk from premium Resham silk, and Muslin Silk to raw silk and also in cotton silk.
But not fabric, Jamdani is best known for its sophisticated designs and Complex Gorgeous traditional motifs on their body.
The Jamdani Sarees mainly originated from the place Narayanganj in today's Bangladesh. However, the word Jamdani is a Persian term.
This eminent form of textile clothing technique is estimated to be 2000 years old. The Jamdani of Muslin Textile once only made one the luxury demand of Nawabs of the Mughal Era by experienced artisans.
History tells us A Jamdani Saree could've taken 9 months to 1 year to make.
In today's world, we consider Jamdani one of the most adored Bengal Sarees throughout India & Bangladesh. But in History, they considered it a royal thing.
Bangladesh got the geographical indication (GI) status for Jamdani Saree in 2016.
However, in the 19th century, because of the high import of Cheap European fabrics, Jamdani Saree's production was partly halted for a long time. And also the decline of the Mughal Empire affected its making.
But in recent years after the partition, the Bengali weavers in India & Bangladesh have revived this beautiful piece of art. Through their looms, they kept their tradition going on for the future.
This art or tradition of Jamdani weaving is also declared a UNESCO Intangible Cultural Heritage of Humanity.
Type of Jamdani Sarees
The Jamdani Saree production is throughout Bengal.
Every place has its way of making Jamdani, and that's what the types are all about.
The different motifs used in different regions are the main identifier of different Jamdanis.
1. Dhakai Jamdani Saree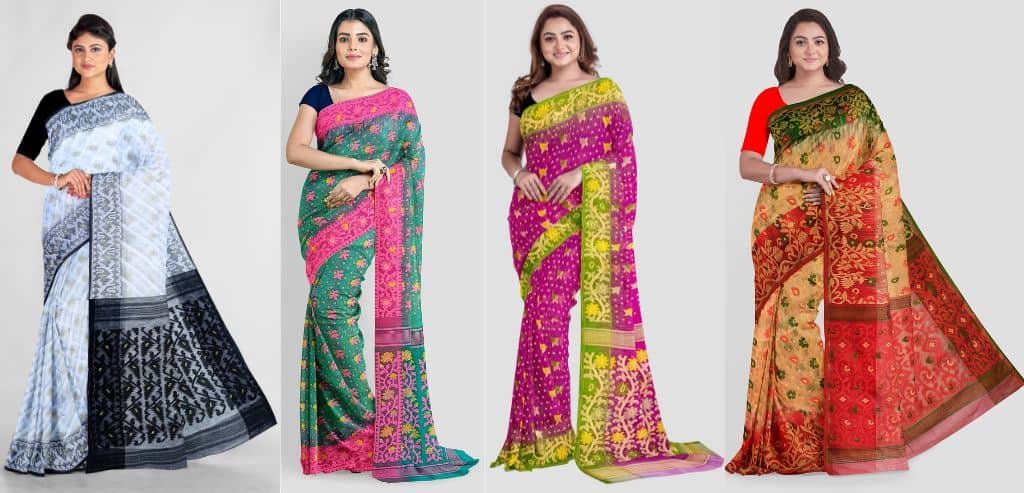 The name Dhakai or Daccai came from Dhaka (the Capital City of Bangladesh). The Dhakai Jamdani is the most popular of the other Handloom Jamdanis.
Authentic Dhakai Jamdani sarees are woven with fine cotton and are renowned for their complex floral design or motifs. For instance, a design pattern name "Korat". Karat is the most common pattern used mostly in the Anchal and Border section in a Dhakai Jamdani Saree.
CLICK HERE FOR THE LATEST DHAKAI JAMDANI SAREES
2. Tangail Jamdani Saree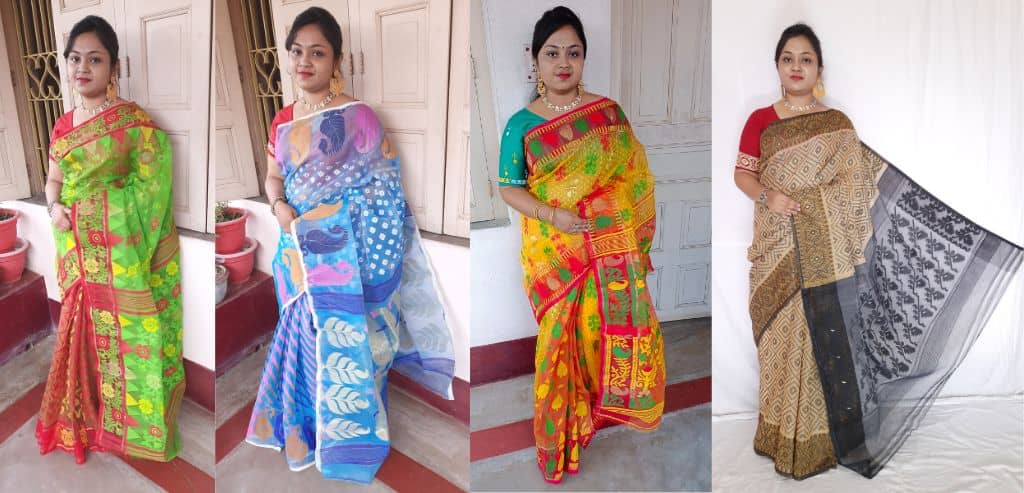 By the name, you can guess that this Jamdani came from the Tangail District of Bangladesh. We know these Tangail Sarees for their Floral Designs & board motifs. "Noksa Par" or "Designed Border" is the noticeable part of a Tangail Jamdani Saree and these Borders have Gorgeous Golden Zari work on Pure velvet borders.
3. Shantipuri Jamdani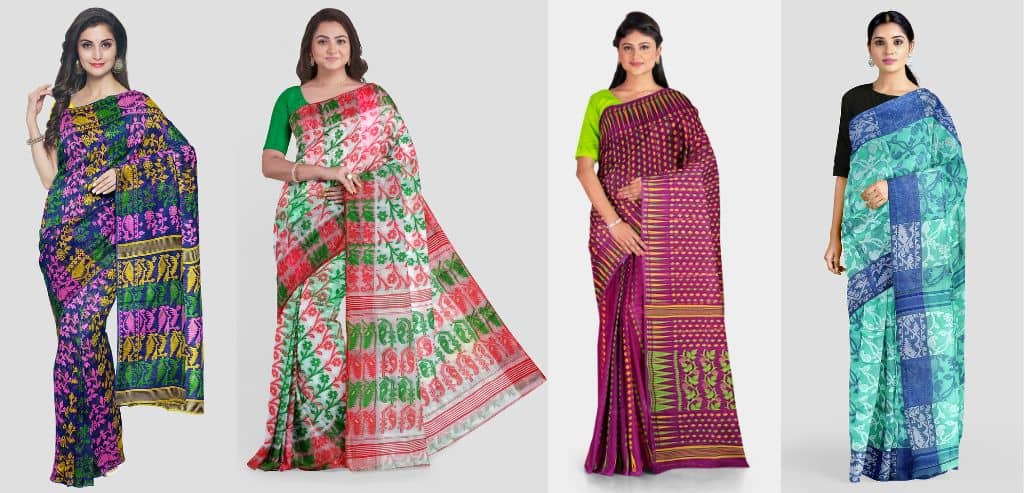 Shantipuri Jamdanis are similar to Tangail ones. But what makes them stand out from the rest is the use of striped motifs & Fine texture.
Shantipuri Jamdanis Sarees are from Shantipur (West Bengal). Nowadays, Shantipuri Sarees are mostly power-loom or machine manufactured, and it is very rare to find Handwoven Shantipuri Sarees. And the Common fabric used in these Shantipuri Sarees are mostly Cotton Silk, Polyester, and other cheap materials with motifs inspired by animal or floral designs.
4. Dhaniakhali Jamdani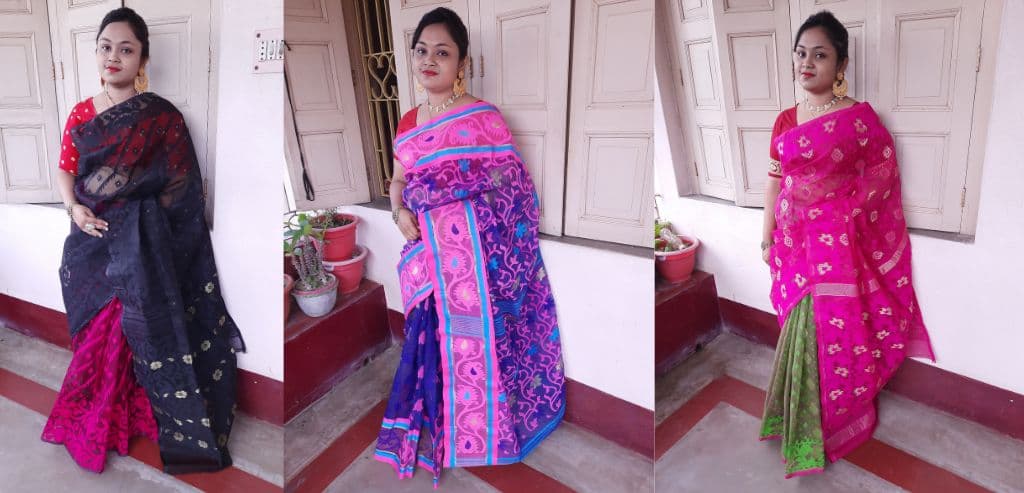 Dhaniakhali Jamdani Sarees are from Bengal's Hooghly district's Dhaniakhali village.
Unlike Tangail or Shantpuri, we know these sarees for their dense style of weaving and contrasting borders of bright colors.
The texture of the Dhaniakhali Jamdani Sarees is Hard or, as may know as semi starched and it is a bit thicker in terms of material.
5. Soft Dhakai Jamdani Saree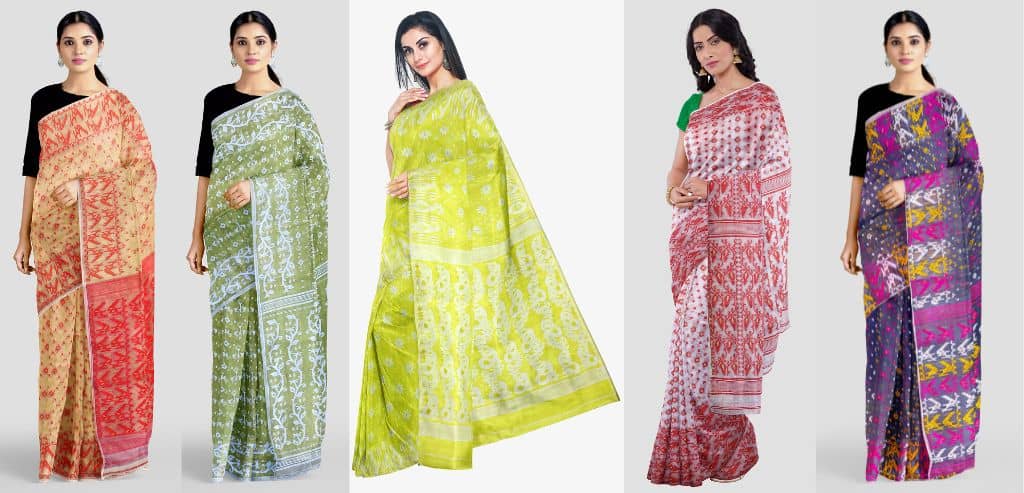 In Bengal, traditionally Dhakai Jamdani Sarees are made in Semi starched to make sure sarees remain in shape for a longer period. But in recent times after so many demands we kept these Jamdanis in their Initial phase, which is soft.
Although the comfort level in both semi-starch and not semi-starched (Soft) is the same, people seem to believe that if the texture is soft, the comfort level will be high.
According to an unofficial survey, the most popular Soft Dhakai Jamdani Saree colors are Yellow soft Jamdani Sarees, Red Soft Jamdani Sarees, and Soft Pink Jamdani Sarees.
These soft Sarees are available in both Cotton Silk, Maslight Cotton, and many more.
CLICK HERE TO FIND THE BEST SOFT DHAKAI JAMDANI COLLECTION
Special Mention: 
Begumpuri Jamdani Saree
Although these Sarees are called Jamdani, they are just replicas of the traditional Jamdani motifs in Begumpuri's Famous Cotton Sarees.
So here are the different Jamdanis in terms of weaving techniques. But if you are talking about Texture & Designs, then there could be 1000 literally.
We really hope you enjoyed this blog about Different Types of Jamdanis. If Yes? Kindly comment or share this with your family & friends.
Why Mayabi for Jamdanis?
Mayabi is one of the biggest manufacturers of Traditional & Trendy Jamdani Sarees. From Pure Resham Silk, Silk to Pure Cotton Sutir Jamdani to Tussar Silk Mayabi Got it all for you.